Boy are you lucky I came up with this power packed Green Shamrock Smoothie just in time to help you recover from St. Patty's Day!
Smoothies are a terrific way to pack in life giving, energy-boosting nutrients into a delicious, portable drink – this will certainly come in handy as you recuperate from a night of Green Beer and Irish cheer, singing "Danny Boy" at the top of your lungs!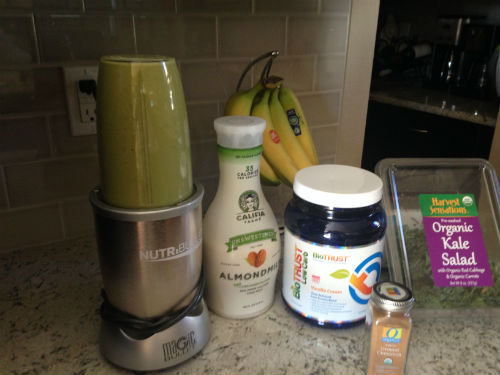 Follow these easy steps and you'll be feelin' lucky in no time!
Green Shamrock Smoothie

Prep time: 2 minutes | Cook time: n/a | Yield: 1 serving
1 ripe banana
½ ripe avocado
1-2 handfuls torn shamrock leaves – a.k.a. kale
1 scoop vanilla protein powder (OR 3 tbsps Hemp seed + 1 tbsp Honey)
½ cup unsweetened almond milk
½ cup water (more for desired consistency)
1 very generous dash cinnamon – like, Loch Ness Monster sized dash
Blend all ingredients until well incorporated. Drink with a green straw while wearing your green garb… because I'm sure you'll keep celebrating all weekend!
Happy St. Patty's Day!
– Missi
PS – Ready to really clean it up?
Click here for a quick and easy way to start boosting energy every day!